This month, Design 101 is all about furniture layouts! Last week we talked about living room and family room furniture layouts. We're making our way around your home, offering you tips and tricks to furnish each space. Next on our list is the Dining Room:
Dining Room Furniture Layouts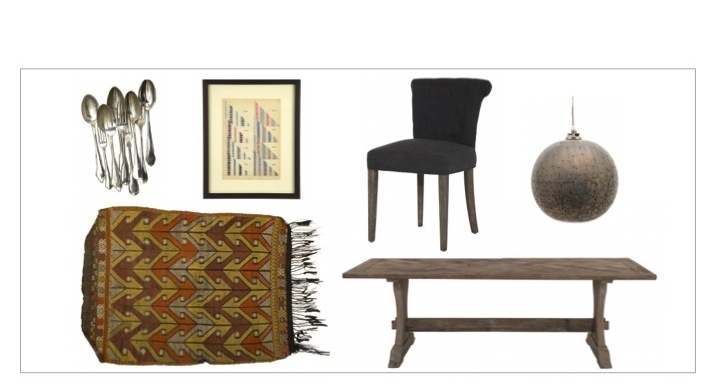 Furniture and accessories from Jayson Home
Step One: Refer to your Furniture List
The other week we talked about making a list of essential items for each room of your home. In your dining room, essential items could be things like a dining table, seating, side furniture (hutch or buffet), and accessories (rugs) or accents (art and lighting). Remember that if you own pieces that aren't essential for the dining room, it could be that they work in another part of your home.
Image courtesy of My Favorite and Best
Step Two: Place Arrange Furniture, Art, and Accessories
Start by placing your dining table. Your table should be centered on your chandelier or ceiling pendant, if you have one. Seems easy enough, right? Well, not necessarily. If you have a light fixture that is placed dead center in the room, and you center your table on it, you may be forced to squeeze in your china cabinet so that it infringes on the area needed to walk around your dining table. If you find yourself with this dilemma, try moving your chandelier so that you can place your table in a position to offer adequate walking space around the table.
Consider the size of your room. You will want to maintain at least a 36" clear area around the table for guests to sit comfortably. This allows for a chair depth of 20", plus 16" to pull the chair back from the table.
You will want space between your table and any walls or other pieces of furniture so that guests can easily walk around the room. If you plan to serve your guests, ideally you will want between 42-46" between the dining table and all walls.
When determining what size dining table you need, consider how many guests you'll want to seat at once. Typically, 24" per person will allow guests to sit comfortably without knocking elbows. But you can always give a little more space for heated debates with lots of gesturing! CHEAT SHEETS.
Consider breaking rules 3, 4, and 5. Sometimes. If you're concerned about finding a table that is small enough to work everyday, but large enough to seat a family dinner, you could use a smaller table on a regular basis and add leaves when needed for larger groups. Squeezing in for a dinner party can be fun!
Make sure you leave room to open doors, drawers, and cabinets.
Consider additional lighting in your room. In November, we discussed various types of lighting that could enhance the dining experience.
Think about whether or not you want a rug in the space. A rug should be large enough that your dining chairs can be moved in and out without catching the edge of the rug.
Happy Planning.
RB.
Next Up: Furniture Layouts for Bedrooms. Stay in the know by signing up for our newsletter!
READERS: Do you have a room that is impossible to furnish? Let us know and we might feature you next month and give you free advice