Sofa Construction - What to Look For
This month, Design 101 is all about sofas. Last week we discussed Sofa Sizes and Styles. A sofa can be a big investment, so before you head out to the store, you should know what to look for. Sofa construction does matter - don't be duped by a cheaply made product! Below are some tips and tricks to help you protect your sofa investment.
The Frame
A well-built sofa starts with a good frame. Ideally, you want to look for a sofa frame that is constructed from kiln-dried hardwood such as poplar, ash, oak, or maple. Kiln drying removes moisture from the wood, preventing warping and cracking over time. Frames made from wood composite, such as plywood or MDF, are less expensive, but will have a shorter life expectancy.
It's also important to take note of how the frame is constructed. You'll want to make sure the joints are solid so that the frame is strong and stable. Ask the salesperson if corners should be glued, double-doweled, and reinforced with blocking. For long sofas, there should also be a center support bracket.
Springs
There are two types of springs used in sofa construction: Eight-way hand tied spring coils and Sinuous ("S") Springs. The springs you choose will affect the price of your sofa as well as the longevity as the spring's main objective is to bounce back in response to your body weight.
Eight-way hand tied coils are more expensive, and are considered a higher end product. The coils sit closet together and are tied to each other, preventing any shifting. The coils are also attached to webbing to add additional durability.
S Springs are easy to spot because they look like rows of S's that run parallel to each other from the front to the back of the sofa. The S spring system is less expensive, and softer. However, if a high quality wire is used, the sofa can still be quite durable.
Cushions
Pillow cushions separate you from the sofa springs, so they are an important factor when considering a sofa. Sofa cushions can be filled with a number of materials, all varying in levels of softness, comfort, and durability. If you are given a choice on the fill of your sofa cushions, you will likely be choosing from one of the options below.
Poly/Down or Spring/Down cushions have a foam core or a spring system that is enveloped with a goosedown and feather mix. The typical ratio of down to feather is 25% to 75%. Foam provides ample support, while down adds a cushy level. The result is a cushion with medium to firm density.
25/75 Down cushions are 100% down, without any foam core. The ratio is the same mix of 25% down and 75% feather. If choosing this option, its important that the down is sewn into individual baffles so that the down support stays even throughout the cushion. This also prevents that lumpy look you've probably seen. The firmness of a 25/75 cushion will depend on the density of the down.
50/50 Down cushions are also 100% down, but have a higher down to feather ratio, making them soft and squishy. A 50/50 pillow will fluff itself up better than any other pillow, and is considered a high-grade option that has a long life. The result is a cushion with a soft to medium density.
Foam and Dacron cushions consist of a foam core with Dacron batting wrapped around it. This option uses less expensive materials, and the labor is less time intensive, so the cushions tend to be less expensive than down alternatives. This is a good option for anyone with down allergies. A foam and Dacron cushion hasa medium to firm density.
100% Dacron fill is made by cutting up Dacron into small pieces and stuffing the cushion much like you would a with down. Like with a down cushion, the Dacron should be sewn into baffles so that the stuffing is even throughout the cushion. Dacron pillows are a good alternative for someone who wants a softer cushion, but is allergic to down. Dacron is also often used for outdoor cushions, as it won't mildew when it gets wet. The firmness of a Dacron cushion will depend on the density of the fill.
Be on the lookout for cushions made with cheap cushion fill. Not all foams are created equal, and a feather/down blend doesn't always mean the cushion is high quality. There is a fill called "Down Upgrade", which is a Dacron Feather blend that actually isn't an upgrade at all given its tendency to clump together. The result can be a lumpy and uncomfortable cushion. If you're unsure of the fill on your cushions, ask a sales representative. And if you've found yourself with lumpy, bumpy, or uncomfortable cushions, speak to an upholsterer who can switch out the fill for you. A properly filled cushion will add comfort and longevity to your sofa.
How to Test a Sofa
Nicole Richie and Kris Jenner Jump for Joy, courtesy of Us Magazine
When you're sofa shopping, don't be afraid to try the following!
Sit. We always recommend sitting on a sofa before purchase. Make an adventure of it and try out every kind of sofa until you find one that feels right.
Get Up. Consider who will be using the sofa. Anyone with knee or hip injuries may have difficulty getting in and out of a very soft sofa.
Bounce. Sofas vary in the amount of bounce they offer. Do you want a sofa that is springy? Or do you want to melt into the cushions?
Relax. Take a seat and stay a while! Recline and pretend you're watching a movie! Ask someone to join you on the sofa so you can see what it feels like with two people sitting.
Use your Senses. Do you hear squeaking when you sit down? Does the sofa wiggle or bow when someone else sits on it? If the answer is "yes", move on!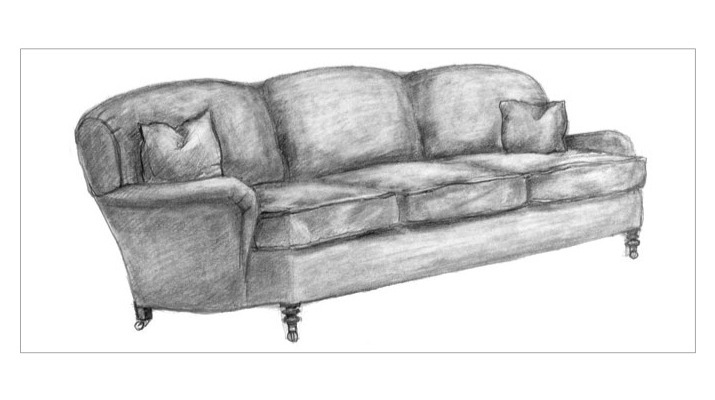 Do you have a sofa dilemma? If so, let us know! We'll randomly select one of our readers to feature next month by helping you solve your problems!
Happy Sitting.
RB.
Next Up: Sofa Fabrics! Make sure to sign up for our newsletter so you're in the know!